Ductless Air Conditioning from Mitsubishi | Reliable of Chattanooga
Mitsubishi Electric indoor Ductless Air Units are easy to install practically anywhere:
Install high on the wall to blend into a room without taking up window pace
Install your Ductless Air Unit in the ceiling or below the floor and totally out of sight
Install low on the wall at floor level to be unobtrusive within the space
Heat pump systems feature auto mode, which automatically switches between cooling and heating in response to the changing load in the space. Our ductless systems are nearly silent; their fans deliver air quietly and continuously with only a gentle whoosh for constant circulation and filtration. For this reason, Mitsubishi Electric split-zoning ductless air systems have long been the choice in thousands of homes, churches, schools , and libraries across the U.S. and the world.
Single Room, Ductless Air Systems
SINGLE ROOM, WALL-MOUNTED HEAT PUMPS (cooling and heating)
MSZ/MUZ
Heat Pumps
9,000 to 33,200 Btu/h
14.5 – 21 SEER
8.2 – 10 HSPF
MSZ/MUZ-FE09/12NA
High-Efficency Heat Pumps
9,000 and 12,000 Btu/h
23 – 26 SEER
10 – 10.6 HSPF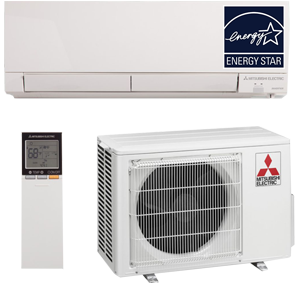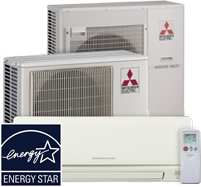 Uses INVERTER-driven compressor
Provides cooling and heating in a wide range ofcapacities
Offers a WIDE Vane bottom outlet for a wider angle of airflow, 150° from left to right(on GA24/D30/D36 models)
Our heat pumps are ideal for applications in the following spaces: Bedrooms, home offices, living rooms, dining rooms, bonus rooms, basements, kitchens, guard houses, and more
Uses INVERTER-driven compressor
Quiet operation as low as 19dB(A)
i-see sensor technology
Enhances filtration system
H2i high heat capabilities
SINGLE-ROOM, HORIZONTAL DUCTED HEAT PUMPS (cooling and heating)
MSZ/MUZ-FE09/12NA
High-Efficency Heat Pumps
9,000 and 12,000 Btu/h
23 – 26 SEER
10 – 10.6 HSPF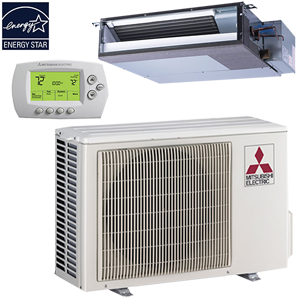 If you are looking for discrete zoned comfort, then a short-run ducted unit is the right solution. As a stand-alone system or connected to a MXZ multiroom system, the SEZ ducted units provide energy efficiency, quiet operation, and a compact design for quick, easy installation either hidden in the ceiling or beneath the floor.
Three of the 1:1 systems are ENERGY STAR certified , and two systems qualify for the federal tax credit.
These systems provide customers with an environmentally friendly option that also gives them an installed look that is similar to what they are used to within their interior space.These models offer the added flexibility of working tandem with ductless models on the same MXZ multi-zone system, providing a wide array of installations options to best fit any application.
Offers INVERTER-driven compressor
Provides cooling and heating in a wide range of capacities
SINGLE-ROOM, LOW WALL or FLOOR-STANDING UNIT
MFZ
(For use with MXZ-B Outdoor Units only)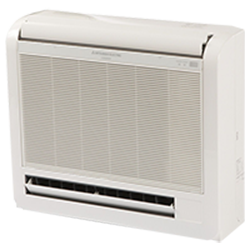 New to our lineup is a Low Wall or Floor-Standing model that can fit into those once difficult installations. These unites provide comfort in spaces such as finished attics with knee walls, basements with low ceilings, and glass-walled sunrooms.
Mounted three inches above floor level, these models provide conditioned air from both upper and lower vents while providing direct front panel access to the filer for easy cleaning. The MFZ can even be recessed in a wall during installation provided proper clearances are maintained.
Provides cooling and heating in a wide range of capacities
Two outlet air vents: -Upper vent for cooling or heating -Bottom vent for heating only
Flush and recessed installation of the unit is supported
Multiple Room Systems
Enjoy ideal levels of comfort in the rooms you use most with our multi-room system. Each room (zone) operates independently. People in different rooms – the kitchen, master bedroom, or living room – can enjoy temperature settings that make each of them most comfortable.
If you're looking for a complete comfort solution for several different rooms, the MXZ multi-room system is the right choice. The system is flexible enough to conform to a particular cooling and heating need and offers numerous different indoor unit combinations. In addition up to eight indoor units can be connected to one outdoor unit. Now with a SEZ horizontal ducted unit and a MFZ floor-standing unit homeowners can enjoy an even greater range of zoning options provided by an MXZ system.
An MXZ multi-room system is an excellent choice for supplementing capacity to a current system, conditioning newly furnished spaces, or new additions and replacing a system within a home. Homeowners can also benefit from lower energy costs year-round while staying comfortable thanks to Mitsubishi Electric's energy-efficient technologies that are a part of every system that we make.
Reliable Heating & Air Conditioning Inc.
404 Spears Ave
Chattanooga, TN 37405
Contact The President at [email protected]  

© 2023 Reliable Heating and Air Conditioning Co., Inc.